Virtual Private Networks (vpn) create an encrypted 'tunnel' between your computer and the host server, from which internet traffic flows in and out. Your ISP or government can only see that you've linked to the VPN server; anything else, including your activities, IP addresses visited, and so on, is fully shielded from them behind a minimum of 128-bit encryption. In this tutorial, you'll learn how to set up a free VPN service on Kali Linux and how full anonymity in the cyber world is possible.
The VPN server, on the other hand, will see what you do online, which is why we believe it is important that a good VPN provider keeps no logs. Anything less, and its users' activities could be jeopardised (thus negating the need for a VPN in the first place!).
While installing a VPN client or otherwise configuring your computer or mobile device is typically necessary, the programming skills required are minimal, and most providers offer comprehensive step-by-step setup guides in any case. One benefit is that once you've set up the VPN, all of your internet activity, regardless of which software you're using, is now securely routed through it.
VPNs that do not maintain logs are the safest. The idea is that if LE issues a legal request for information of who did what and when, the VPN provider won't be able to point the finger at a single user because they don't have any logs. This is the most recent (and, in my opinion, most reliable) list of such paid VPN providers:
read: What Is Kali Linux?
Why use VPN?
Here's 11 reasons why you would want to use VPN services.
VPN provides Privacy and cloaks your IP address.
Use any network (public or private or free WiFi) with encryption
Login to your home or Work network from anywhere with confidence.
Bypass censorship and content monitoring.
Browse and bypass Firewall and censorship policy at work or Anywhere!
Access region restricted services from anywhere (i.e. Youtube videos, NetFlix or BBC Player etc.)
Transfer or receive files with privacy.
Hide your voice/VOIP calls.
Use Search Engines while hiding some of your identity.
Hide yourself
Cause you like to be anonymous.
Pros
Internet activity cannot be spied on by ISPs or governments
High levels of encryption (128-bit to 2048-bit)
All internet activity masked (once VPN set up on device)
Cons
More expensive than proxies
Can be a bit slow during peak times
If VPN provider keeps logs then these may be obtained by the authorities
VPN Services are available for free!
The main disadvantages of VPN are that it is relatively expensive, and the encryption process taxes the servers, causing internet connectivity across them to significantly slow down while in heavy usage. There are several free VPN providers, but I have yet to find one that discloses any information about the logs it keeps or the conditions in which it will be handed over to a third party.
I'll show you how to set up a free vpn service on Kali Linux (Security KISS) in this video, but don't expect full anonymity from this free vpn service.
Let's start the configuration.
Step 1: Enable VPN on Kali Linux
By default , vpn is not configured in Kali Linux. If you want to connect vpn in kali linux , first install pptp and network openvpn in Kali linux using apt-get install. for this login to Kali linux as root user and type the following command in terminal.
aptitude -r install network-manager-openvpn-gnome network-manager-pptp network-manager-pptp-gnome network-manager-strongswan network-manager-vpnc network-manager-vpnc-gnome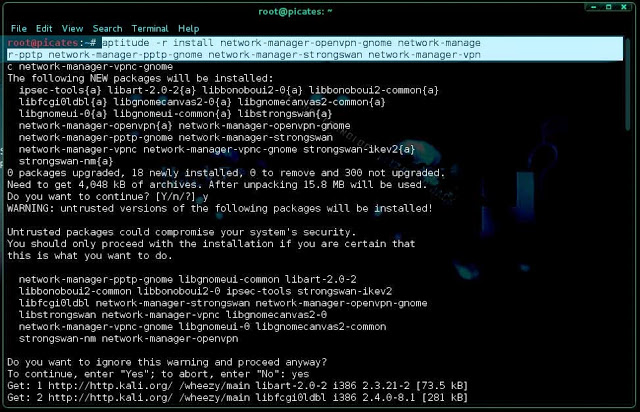 On some cases, you might have to restart network-manager and networking, so type the following command:
service network-manager restart

Step 2: Enable IP forwarding
Check whether IP forwarding is enabled in Linux:
cat /proc/sys/net/ipv4/ip_forward
It should return 0 or 1 (Normally it should return 1)


If it is zero (0) you need enable IP forwarding by:
echo 1 > /proc/sys/net/ipv4/ip_forward
and
gedit /etc/sysctl.conf
Now the sysctl.conf file will open up then edit the following line 26 and 27: net.ipv4.ip_forward = 1
from
# Uncomment the next line to enable packet forwarding for IPv4
#net.ipv4.ip_forward=1
to
# Uncomment the next line to enable packet forwarding for IPv4
net.ipv4.ip_forward=1
and save.
Step 3: Register on Security KISS (vpn provider)
After successfully done the above two steps now time to register on Security KISS by clicking the following link:
https://www.securitykiss.com/panel/createaccount/index.php
Type your email id then click on create button.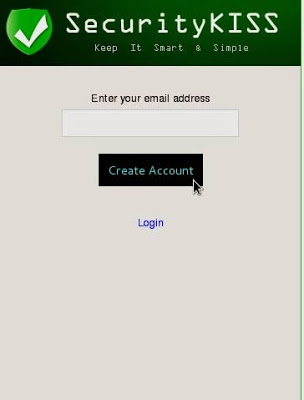 Open your mail and login with given client ID and password to Client Area.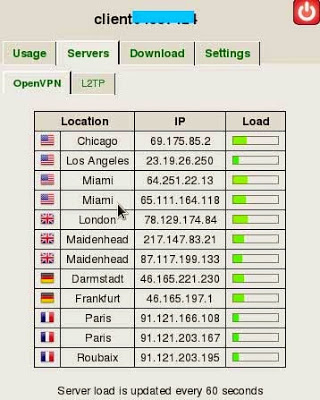 Download the configuration bundle from Client area (Use the download link generated in SecurityKISS Client Area).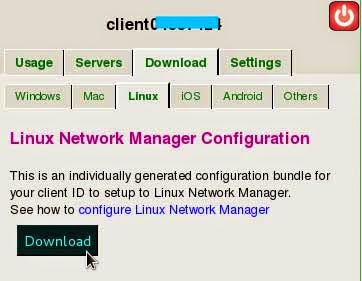 Unzip the files.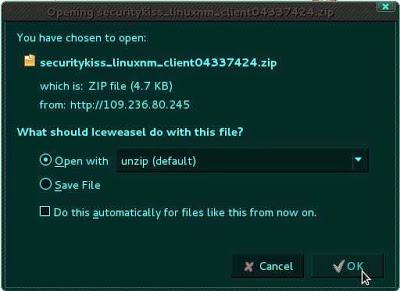 Now you have 4 files named client.crt , ca.crt , client.key and README.txt .
View the README.txt file to find the list of SecurityKISS gateways (In this tutorial i am gonna use the Miami gateway, you can see i am highlighted that in the following screenshot )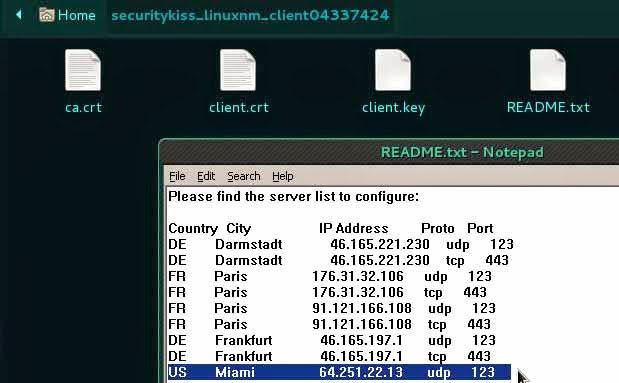 Step 4: Configure OpenVPN connection
In the network connections find ' Configure VPN '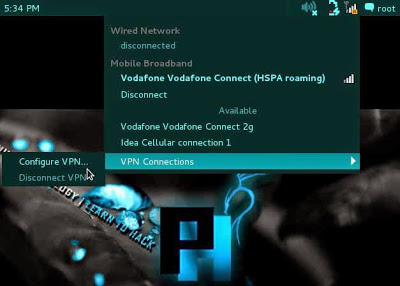 Select VPN tab and click on Add button.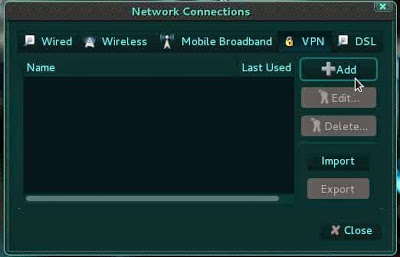 Choose OpenVPN connection type and press Create button.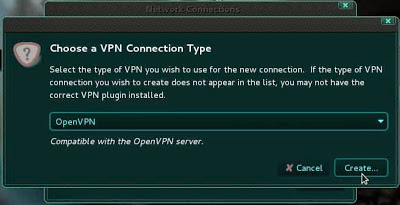 Now an editing window will open up, Configure the following information:
Enter connection name indicating server location, protocol and port .
In the Gateway field enter one of the IP address from the list you found in README.txt .
Authentication type should be ' Certificates (TLS) '.
Click on User Certificate and navigate to unzipped config file client.crt .
Click on CA Certificate and navigate to unzipped config file ca.crt .
Click on Private Key and navigate to unzipped config file client.key .
Put in your password for your account.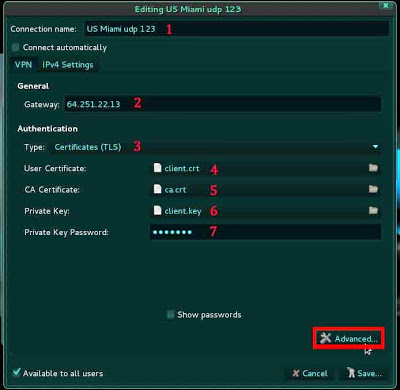 Now click on the Advanced button.
Tick ' Use LZO data compression ' and ' Use custom gateway port ' check boxes.
(Enter port number according to the selected server from README.txt .)
If the server you selected from the list is marked as TCP you also need to tick ' Use a TCP connection ' and click ok to save settings.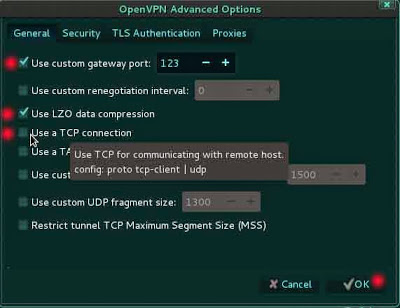 Mark Available to all users then click on save button.
Now you can see the new connection with the gateway name in the network connections manager window (see the following screenshot of mine).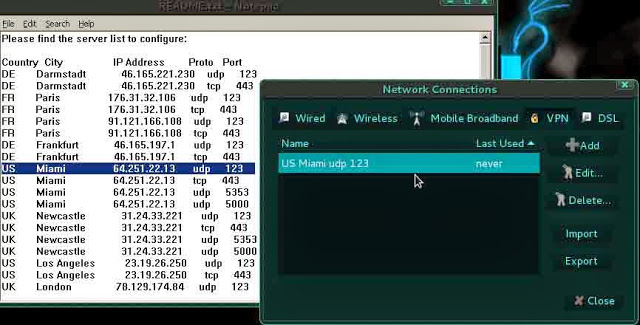 Step 5: Test the tunneled connection
Connect from the VPN connections.
Go to network manager and click to VPN Connections and connect.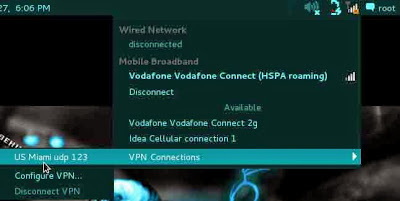 You can verify if your IP address has changed by opening their geographical-location website: https://www.securitykiss.com/locate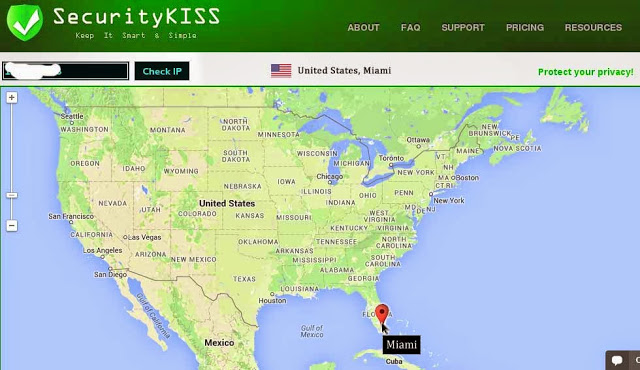 Successfully connected to the free VPN.