Unlike wallpapers, a theme modifies the entire Windows user interface. People have loved customising their PCs with various themes and wallpapers since the days of Windows XP. It's been more than five years since Windows 10 was released, and there are some fantastic themes to try out. So… I'll show you how to download free Windows 10 themes including skin packs.
Please download and instal UltraUXThemePatcher before restarting your computer. It modifies your system files while also keeping a backup of the originals. If you have any problems, uninstalling them will undo all of the changes and restore the previous files. Ribbon Disabler is required for some of the themes on this list. It disables the ribbon in the File Explorer while preserving the functionality of Paint and Wordpad, as well as changing the explorer frame. When you download a theme, copy it to C:/Windows/Resources/Themes and paste it there. Then, right-click on your home screen, go to Personalize, select your downloaded theme, and apply it.
Free Windows 10 Themes and Skin Packs
1. Ubuntu Skin Pack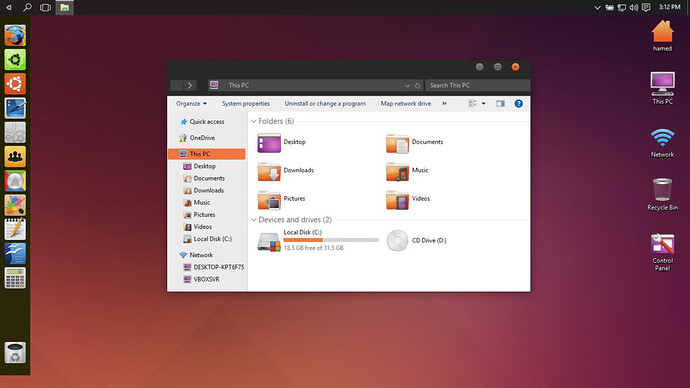 Ubuntu is a popular operating system that is known for its cloud computing capabilities and extensive customization options. Its skin pack allows you to enjoy the features of this versatile customizer on your Windows 10 computer. With the Ubuntu skin pack, you can customise your notification sounds, popup styles, and fonts for workspaces and desktop visuals.
This theme pack adds Ubuntu-styled icons, wallpapers, the login screen, and even the loading animations to all versions of Windows 10. Change the position of the dock bar, add shortcuts, and personalise mouse gestures and keyboard shortcuts. You can rotate your desktop screen using the Cube feature, which looks cool and allows you to run different applications on each side. It's small and light, and you can use it to instal third-party applications such as browsers and toolbars.
The Ubuntu skin pack, on the other hand, tries to instal some unnecessary apps. As a result, you must deny permissions to that.
Why Choose this Theme?
Neat and lightweight OS theme; compatible with all versions of Win10
Cube feature for enhancing the outlook and feel
Extensive customization options yet free to download
2. macOS Skin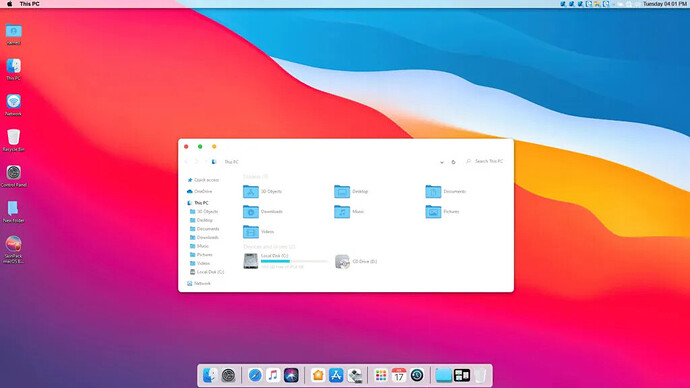 Thousands of people are enthralled by the MacBook and its operating system, macOS. MacOS skin is for you if you're one of them. It has about 80% of the features of macOS, which is quite impressive considering that this theme is free to use and download.
The app drawer is similar to the one found on Mac OS. You have the option of choosing between two themes: one with a Command Bar and one without. Even though it doesn't have the same feel as the native version, it does have Mac's signature borderless design.
The screen corner activation mode, font style, and even the dock and taskbar can all be customised. Some shortcuts and applications, such as the web browser, media player, and recycle bin, will be available in the dock. Overall, it provides a satisfying user experience.
Why Choose this Theme?
Look, feel, and usability of macOS; especially meant for mac lovers
Decent customization options; free to use
3. Silk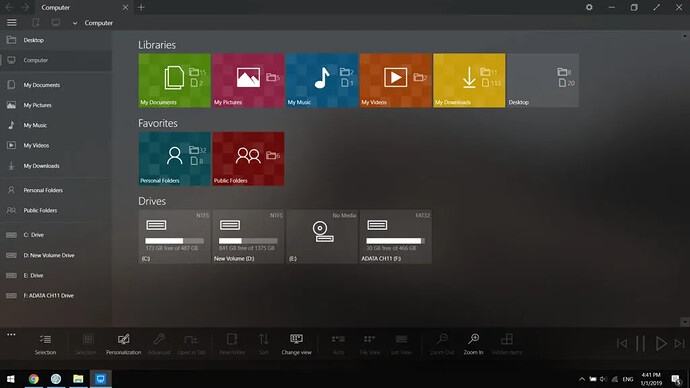 Note: Silk has been replaced with Dark SkinPack.
Silk has been included in every top ten list of the best Windows 10 themes for over a decade. Silk has a variety of beautiful skins for Windows 10 that can completely change the appearance of your computer. Silk transforms your native Windows look into a minimal Notebook with a plethora of colour customizations.
Silk provides a variety of colour schemes, beautiful wallpapers, and complete control over the appearance. The fact that it is lightweight and can run smoothly on even the most basic configurations is one of the reasons why so many people prefer it.
Silk's Lite version is free to download, but you'll need to pay $3.99 for the full version to use it to its full potential.
Why Choose this Theme?
Bright and smooth color schemes; gives a native notebook alike appearance to your PC
Compatible with PCs with the lowest configuration
4. Flattastic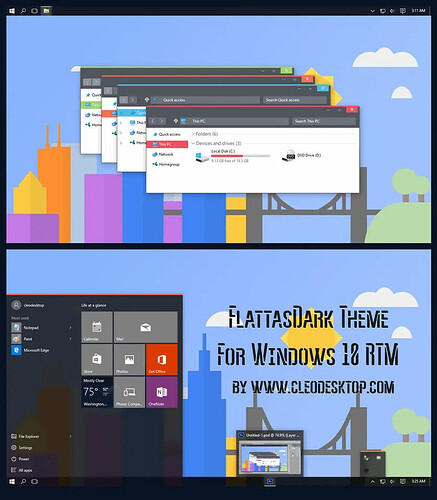 This is our personal favourite. Flattastic is one of the most elegant and attractive Windows themes available. It gives your PC a minimalistic makeover and gives you multiple customization options.
Flattastic is the favourite of our team because it has a two-in-one option. There are eight versions of the Flattastic Light theme and eight versions of the Flattastic Dark theme included. You can change your skin pack whenever you want, depending on your mood; there's no need to buy another one!
Flattastic completely flattens your Windows UI and gives it a modern look. This theme pack gives the menu bar and taskbar a transparent look with a pleasing colour scheme. There are four icon packs to choose from, each in a different colour.
Flattastic is a completely free programme to download and use.
Why Choose this Free Windows 10 Themes?
Visually stunning, great color aesthetics and free to use
Consist of both Dark and Light themes
5. Aero Glass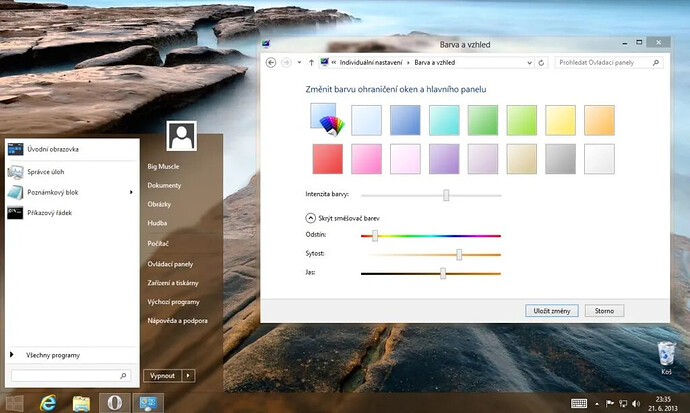 With a cool glassy interface, give your Windows 10 a perfect native look. Aero Glass is a popular Windows skin among users because it offers a variety of customization options that most themes don't. Because it replaces some of the opaque elements and objects on Windows, the transparent design gives your PC a unique appeal.
Every feature controlled by the DWM API is supported by Aero Glass, so you can customise even the taskbar or Start menu by blurring it. Change the overall appearance of your window borders, enable window shadow, and apply a caption glow effect.
The caption buttons can have their appearance changed, and the rounded borders can be used. Overall, this theme is light, attractive, and does not create unnecessary objects that slow down your computer.
Why Choose this Free Windows 10 Themes?
Fully transparent native look; preferred by specific users who love transparent and blur effects
Lots of appearance customizations available
6. Simplify 10 & Simplify 10 Dark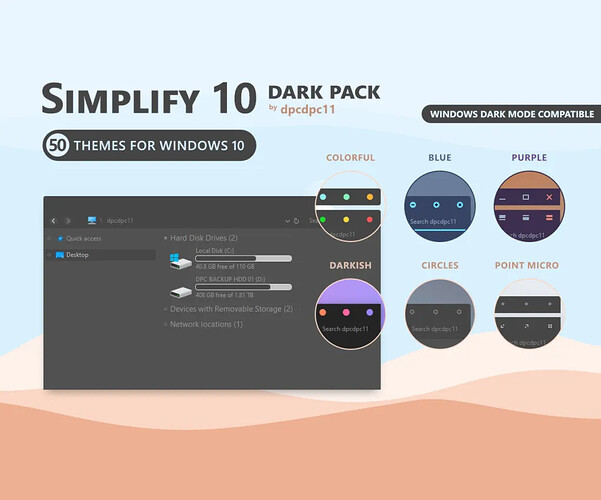 Simplify 10 does exactly what its name implies: it simplifies things and provides you with the cleanest version of Windows 10. For those who prefer to keep their desktop clean and organised, this is a great option.
The standard Simplify 10 theme has about 20 elegant, minimalistic themes to choose from for a complete makeover of your PC. The Dark option, on the other hand, has a total of 56 themes.
All of the themes in both skin packs are HiDPi ready and can be scaled up to 250 percent to fit any screen size. It's available in a variety of colour schemes. You'll be able to select from a variety of fonts as well as icon sizes. The Dark theme pack includes six core themes with numerous variations.
Simplify icon packs, on the other hand, are not free to use. You'll have to pay $5.99 for them. The dark mode is preferred by the majority of users due to its versatility. The developer offers premium support for both themes.
Why Choose this Theme?
Beautiful, elegant, and minimalistic
Suitable for all screen sizes; supports HiDPi, scaling up to 250%
Requires one-time payment but offers great usability, customization, and developer support
7. StartIsBack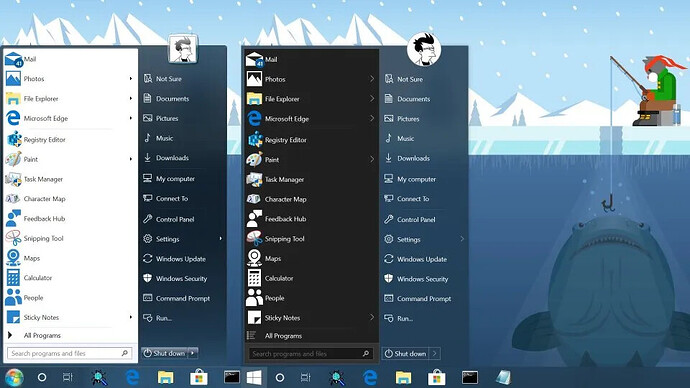 Do you find Windows 7's Classic Start Menu fascinating and easier to use than Windows 10's? Then StartIsBack is a great option. You can personalise the start menu to your liking and keep it clutter-free. StartIsBack is a lightweight and fully native theme.
On StartIsBack, you'll find the search, drag&drop, pinned and recently used apps, as well as every customizable setting for Windows 7. Drop shadow, Modern blur, and immersive context menus are all included in the start menu, as well as a fully dynamic DPI aware start menu and configuration app.
The theme's overall appearance is enhanced by the round user avatar and modern glyph icon; the premium version costs $3.99 to $9.99.
The free version, on the other hand, is excellent because it has no popup ads and a 30-day trial period.
Why Choose this Theme?
Lightweight, customizable and fully-native; reduces OS resource usage
It's feature-packed, and the freemium version doesn't contain ads
8. Arc X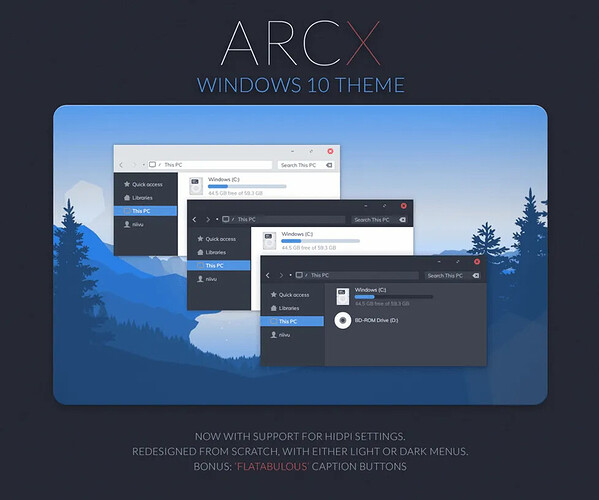 Arc X will impress you if you enjoy black and white colour accents. Yes, you won't be able to make any drastic changes to your windows and panels, but it will give them a simple and elegant look. The overall colour scheme is similar to that of the Linux operating system, which many people prefer.
The header of the windows will be dark, while the side panel and work area will be white. The rounded corners give them a contemporary feel. For larger screens, HiDPi support is available. You'll have access to a variety of graphic customizations, such as the icon pack collection.
In the archive, there is a section where you can find high-quality wallpapers to use. The menu can be switched between dark and light modes.
Read: How To Optimize Windows 10 For Gaming
Why Choose this Theme?
Suitable for all screen sizes due to HiDPi support
Both light and dark mode available for menu
Customizable icon pack available
Download Theme/SkinPack
9. Vanilla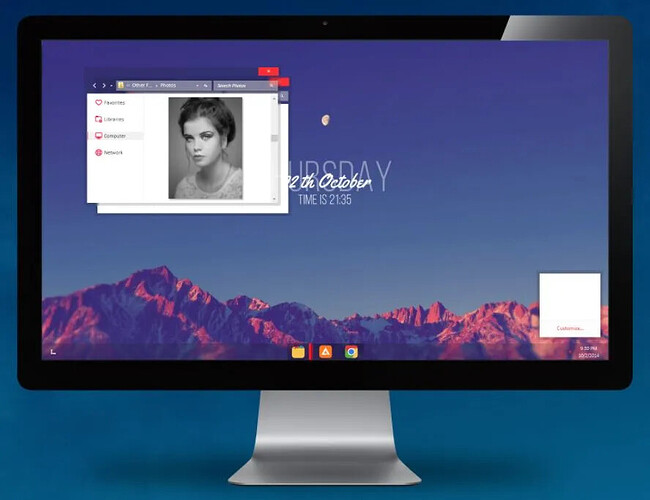 Note: Vanilla has been replaced with CLEAN.
Another simple and elegant Windows 10 theme. Vanilla has a borderless design, making it appear to be an online cloud service. For those who prefer a clutter-free UI, the design is simple, subtle, and appealing.
Even though vanilla doesn't have a lot of customization options, it does a good job of changing the look of your PC's interface. It gives the screen a crisp and bright overall appearance that may not necessitate many changes.
Vanilla has a collection of 11 stunning HD nature wallpapers that you can use for free!
Why Choose this Theme?
Simple, clutter-free, and looks elegant
Preferable for people looking for cloud lookalike interface; free to use
10. XP Themes Final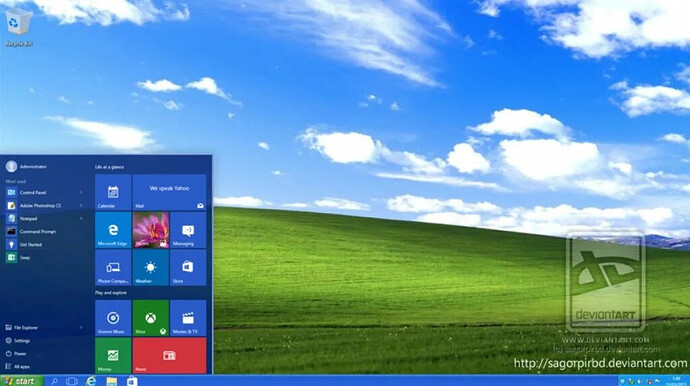 Users still miss and prefer the classic look of Windows XP, so XP Themes Final is on the list. This theme restores the UI-UX of your Windows PC, as well as some of the old customs.
This theme works with every version of Windows 10. XP Luna, XP Metallic, XP Olive, XP Royale, and XP Zune are among the five themes available. It's clutter-free, and you'll find all of Windows XP's original wallpapers to bring back memories.
Although not highly customizable, you will have access to a few add-ons to begin with, such as XP Styles Pack or StartisBack Plus.
Why Choose this Theme?
It is only meant for users who specifically want the Windows XP style. Not suited for heavy customization and usability.
Know any more free Windows 10 themes? Let me know below